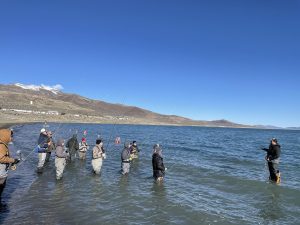 Pyramid Lake Shore / Ladder Outing April 15th-16th
A fishing trip designed to help anglers of all skill levels learn more about fly fishing Pyramid Lake.
Spend the day with our top guides along the shores of Pyramid Lake. Learn techniques that we have been using for years to catch these amazing huge fish. We will spend two days fishing, learning, laughing, and eating a Barbeque shore lunch served on Traeger Grills, one of our sponsors.
We will have some Demo gear to try out and all ladders included
We hope you all have a great time, learn new information and of course, catch some fish!
Cost: $295 per person
For more information or to sign up, feel free to contact us:
Rob Anderson 775.742.1754
ro*@bu******************.com