Text flyfishing to 22828 to receive our fishing report via email
Hey folks the fishing report page is acting up and for some reason all of our fishing reports have been deleted for the past season. We will fix it shortly.
7-1-14
Pyramid is closed for trout fishing until October 1st 2014.
We had our best year ever and we hope you did as well. We are already working on our guide schedule for the coming season. We do more guide trips each year than any of the other guides have done in their history of guiding at Pyramid. We also have not gotten skunked with clients in three years (over 200 trips)
Hear is part of a fishing report from one of our competitors from last February (their last fishing report of the season)
"Pyramid can be tough most of the time but when you "strike it rich" it is well worth the time and effort.  Lots of skunks and some absolute trophies! The fish are still  up and down and in and out of the shoreline beaches.  Pick your favorite spot and fish! You never know!"
6-24-14
With under a week to go in the season, things have come to a screeching halt. The water has gotten really warm and most of the fish have headed for deep water for the summer. Shore fishing with either a fly rod or spinning gear is really slow. Boaters still have a chance to catch some fish in deeper water but the problem is that bringing them out of 50 degree water into 70 plus degree water on the surface is very dangerous for the fish. It is time to put the ladders and the down riggers away and give the lake a rest until the fall opener on October 1st.
6-17-14
The fishing season ends at Pyramid on June 30th. The water is really getting warm and the fish have really moved out into deeper water for the summer. There are still a few fish being caught but mostly by float tubers who are fishing in deeper water. There are also a few fish being caught from shore in areas with access to deeper water as well. Try to get yourself in 15-30 feet of water and get your flies near or on the bottom. Really fast sinking Shooting Heads are a must if fishing Wooly Buggers, Beetles or Minnow Patterns. Let your line sink for at least 30-40 seconds before starting your retrieve. Nymphs and Midges are really working well for anglers who can get them into deep water. Umpqua Feather Merchants Deep Water Lake Leader is the way to go for fishing in water over 10 feet deep with an indicator. This system allows you to hang your flies under an indicator in up to 20 feet of water. Mark Fore and Strike and Scheels in Reno have these set ups as well as Fly Fishing Specialties in Sacramento. Maholo Nymphs and Midges are a couple of great flies to try as well. Note: Keep an eye on the weather and be careful when float tubing at Pyramid. The wind can come up quick and make float tubing un-safe.
6-3-14
June and we are still catching fish at Pyramid. The Tui Chubs have shown up in the shallows around the lake and there are some really big fish chasing them. Warm or even hot weather is on the way and the great fishing we have had over the past month could end anytime. This is the time of year when we really start to use our floating devices and try to get out in a little deeper water. The water temps. are in the high 50's and will be in the 60's before long. This usually drives the bait and the fish into a little deeper water. There has been a tremendous Callabaetis hatch by mid-morning each day and there are also some fish really keying in on those as well. With so many other places to fish right now in the area, Pyramid has no pressure. Nymphing from a float tube or pontoon boat is a great way to go right now. Maholo Nymph's and Midges fished with Umpqua's Deep Water Indicator Leader is the way to go for indicator fishing in 10 plus feet of water at Pyramid or any other lake. Mark Fore and Strike in Reno and Fly Fishing Specialties in Sacramento has these leaders in stock among others currently. Stripping Minnow patterns on the bottom with a fast sinking shooting head has also been very effective of late. Some of the larger fish are really keying in on Minnows right now.
5-27-14
This has been one of the best late seasons at Pyramid in a long time. The water temperature is hanging in there for late May and that has really helped a ton. The water temps. are still in the upper 50's to low 60's in the shallows. There are some windy days ahead of us which help keep the temperatures down this time of year. We could get another few weeks of good fishing if this keeps up. A few days in the 90's and no wind could also turn it around quickly. 20-30 fish days are not uncommon for anglers moving around and finding the right wind conditions and pods of fish. There is a strong Callabaetis hatch mid-day and that is also helping the fishing. Nymphing has been the most effective way to go for sure. Maholo Nymphs in Red, Black or Wine are a good bet to imitate the Callabaetis right now. Two fly rigs with the bottom fly fished close to the bottom and the upper fly about 2-3 feet up is a great way to go. There are plenty of places to get Maholo Nymphs if you are headed to Pyramid including Mark Fore and Strike in Reno, Keines Fly Shop in Sacramento and Scheels in Reno. The best places to fish this time of year are ones with less boat and Jet Ski traffic. Try going to the North or the South end of the lake to stay away from summer traffic.
5-7-14
The fishing continues to hang on at Pyramid. The water temperatures are around 56 degrees in the shallows and there are still plenty of fish cruising the shelves. Some larger Pilot Peak strain Cutthroats are starting to show up again and there have been some really big ones caught in the last week. This is the same pattern we saw last May. As the Summit Lake strain fish lose their urge to spawn and start heading for deeper water, the Pilot Peak strain seem to take their place in the shallows. Beaches with deeper drop-offs should start to produce more and more in the coming weeks and shallow areas will start to slow down. Weather is the number one factor on a good day at the lake for sure. It is becoming more and more important to fish on days when there is some wind. Nicer blue bird no wind days continue to get tougher and tougher. There is still some time to get out and catch some fish at Pyramid and this is a great time to get a really big one. Red and Wine Maholo nymphs are really starting to produce again for floating lines. There is some growth starting to happen on the bottom and foam Beetles and Tadpoles are a good choice for shooting heads.
4-16-14
The spawning season is in full swing at the lake. The hatchery is full of Lahontan Cutthroat Trout and the Fisheries folks at the lake are working hard to make sure there are plenty of fish to put back into the lake for next season and beyond. When you see the efforts that are put in by members of the tribe and U.S fish and wildlife to ensure the future of Pyramid Lake you start to understand why it is important to treat these fish with the utmost respect.
Fishing has been really good over the past couple of weeks with a few tough days thrown in there as well. Weather plays a bigger and bigger role out at Pyramid as the spring goes on. Sunny Blue Bird days with no wind can create some tough conditions. The fish are cruising in really shallow water and can get spooked by ladders and fishermen, especially on crowded beaches. It can become really important to be aware of the situation and if fish are in really tight to the drop-offs back up 5 to 10 feet. This pattern has been the case at some of the more popular fishing spots like the nets and Pelican. If you are in an area where he fish are tight and there are fishermen too far out in the lake then it can be best to look for a spot on the beach with less anglers. This is a great time of year to take off the indicator and fish nymphs on a long leader and a Hover line. Albino Wino's continue to be hard to beat for midges and Red and Wine colored Maholo Nymphs are still the way to go for nymph style flies. For shooting heads, Olive Martini's and tan or chartreuse Beetles are working well.
4-8-14
The lake has gone through some major changes in the last week. The water temperatures have gone from 44 degrees to 50 degrees in 6 days. There is some really off colored water on both the North end and the South end of the lake due to this. It appears that the lake wants to turn over soon. High pressure has dowsed the wind and made the fishing really tough over the last two days. It is really a good time right now to fish the first and last light until we get some more weather. The hatchery is packed with fish and the spawn is on. Fishing should be really good over the next month weather permitting.
4-1-14
April is here and we are in the middle of the peak season at Pyramid Lake. Unsettled weather over the past few days has really helped the fishing. There have been a few days with some good onshore winds and some overcast that have resulted in some really good days. The fish are really spread out and there is not just one spot to find them. Fish the wind and try to pick a spot with the wind in your face. You can both move a lot to find fish or stay in one place and wait it out. The fish are really getting in good spawning shape and they are ready to do their thing. The water is still really cold for the first of April at around 44 degrees. It is supposed to get warm starting next week and the water temperatures should start to climb. Shooting head set ups are working well in the early mornings with Olive Martini's, Midnight Cowboys and Pink and White Wollyworms. Nymphing either under an indicator or with a Hover line has also been picking up a lot of fish. Red Maholo Nymphs and Albino Wino Midges are hard to beat. Go to the beaches page at pyramidlakeflyfishing.com to get an idea of how deep to fish your flies under the indicator if you have not been out in a while or are unfamiliar with the lake. Mark Fore and Strike in Reno has a good stock of Pyramid Flies.
3-25-14
This is the time of year that angler come from all over the West and even the Country to fish for Giant Lahontan Cutthroat Trout. March and April brings a little warmer weather and the migration of these fish into shallow water looking for a stream to splash their eggs into for a new generation of fish to begin their lives of the World's largest Cutthroat Trout. The spawning channel at Pyramid Lake is the perfect place for this phenomenon to take place. Fish are geared up to run the artificial stream right now in search of the perfect place to lay their eggs. The Hatchery water is on but most of the fish are not quite ready to spawn. There are many beaches that fish are cruising the shallows and plenty of fish are being caught by shore fisherman. There have been some slow days and some really good days. Most of it is weather based. Stormy weather patterns over the next week or so should really help the fishing at Pyramid. We should be in a good fishing pattern for the next few weeks. Nymphing will be working well for the remainder of the season. Red, Wine and Black Maholo Nymphs continue to be a great choice for flies. The Albino Wino Midge is also a must have. Mark Fore and Strike, Keine's Fly Shop, Orvis of Reno and California Fly Shop are all places to purchase these flies. Shooting Heads are also working well. Olive Martini's and Bloody Marys have been tough to beat.
3-18-14
It is that time of year again at Pyramid Lake. In the middle of March each year thousands of Lahontan Cutthroat Trout make their way into shallow water around the lakes shoreline in search of moving water. It is spawning season. Not only do the trout start their migration but so do anglers from all over the country. The next 6 weeks at Pyramid will undoubtedly the best and busiest place to fish in the area. We have a few trout of over 20 pounds that have been caught and lots of fish in the 10-20 pound range already this season. The numbers of fish caught is starting to go up as well. There have been a few 20-30 fish days and plenty of 10-20 fish days. You still have to look out for the occasional blue bird sunny no wind day here and there that makes the fishing tough. Nymphing rigs and shooting head set-ups are both working well. It is best to have both rigs set up and be ready to switch at any time. Fish are spread out all over the lake and can be caught from Popcorn Beach on the South end of the lake to Monument Rock on the North end. For the Nymphing rig Red or Wine colored Maholo Nymphs, Copper Tops and Albino Wino's are working well for sure. Midnight Cowboy's, Olive Martini's and Popcorn Beetles are tough to beat fished on the bottom. Mark Fore and Strike and Orvis both have these flies locally in Reno. There is a new section on the beaches page, www.pyramidlakeflyfishing.com/fishing/beaches/ that helps out with depth to fish your flies under an indicator on most of the beaches at the lake. Contact Rob Anderson 775.742.1754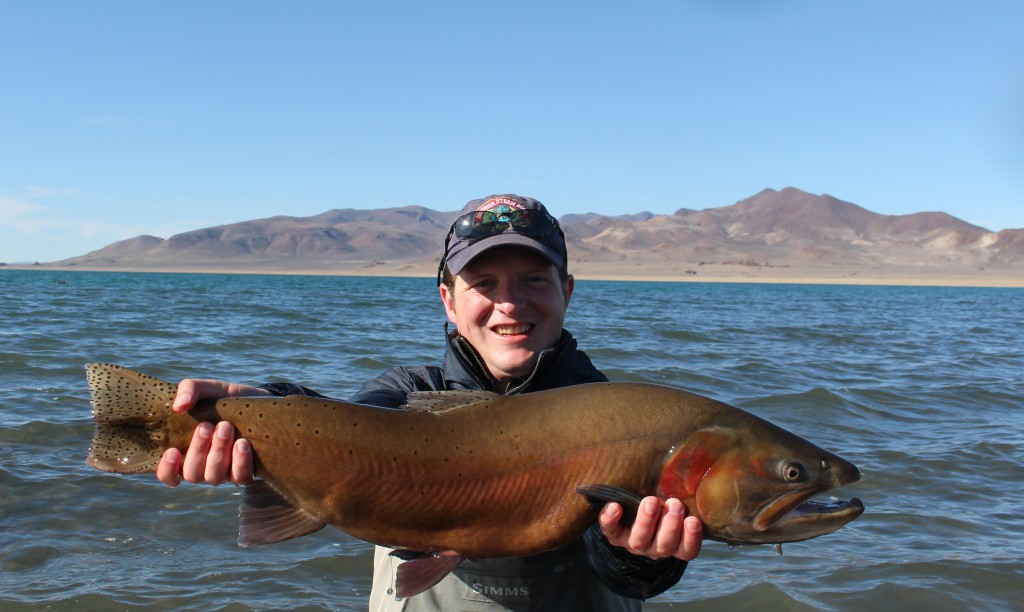 3-5-14
The lake continues to fish well. Summit Lake strain Lahontan's are starting to move in to some of the popular beaches looking for moving water for their annual spawn. The water temperature is starting to climb out of its winter lows and the fish can sense the beginning of spring conditions at the lake. If this year is anything like last the shift is on to a few more fish being caught and without a doubt more Summit Lake Strain fish over the next month. The beauty of having two strains of Lahontan's in the lake now is that they are showing up at different times of the year. The Pilot Peak Strain is a great addition to making our fishing season better at Pyramid and last much longer. The Summit Lake strain is more likely to school up and run the shallows in the spring months when we see an increase in angler days in March and April and when it seems to become more difficult to catch some of the larger Pilot Peak Cutty's. Another year of fishing for this new amazing fish will undoubtedly reveal more about what they are all about. The best times to fish still remain to be days with chop on the water. 10-20 fish days are happening already and you just have to be there on the right day with the right weather at the right time. Nymphing continues to produce the most fish. Red and Wine colored Maholo Nymphs fished either under an indicator or stripped slowly with a hover line is hard to beat along with the Albino Wino. For the shooting Head set-up Olive Martini's and Bloody Mary Wooly Buggers are working well.
2-25-14
The lake continues to pump out some big fish. There have been some tough days and some good days and that should continue right through the middle of May. The water is starting to warm a little with the warmer weather we have had. It is still around 44-45 degrees unless you are fishing in the shallows where it can reach 47 degrees. The beaches that offer access to deeper water have still been fishing the best but the fish are really spread out and can be caught all over the lake. Follow the wind on calmer days. There are already some female Summit Lake fish with eggs and the spawn is just around the corner. Red Maholo Nymphs and Albino Midges have been working well for the indicator rigs and Midnight Cowboys and Popcorn Beetles for the shooting head set ups. Locally in town Mark Fore and Strike has a great assortment of these flies at great prices. Go to pyramidlakeflyfishing.com for more info.
2-12-14
Pyramid continues to spit out some big fish. There are plenty of slow days out there about twice a week the fishing is pretty good. That is normal this time of year with the water temperatures around 43 degrees and the weather changing daily. This past weekend saw some 70 mile an hour wind events on Friday and Saturday and the fishing was really tough. Sunday the wind calmed down and the fishing was way better. There are not too many secrets this time of year. The beaches with some access to deeper water are normally doing a little better. On calm days fish the windy part of the lake. There is the 2nd weekend of a tournament this weekend so the normal hot spots should be crowded. There are plenty of places on the lake that are completely empty of anglers. Nymphing, Jigging and stripping Wooly's and leaches are all worth a shot. If you are coming from out of town plan a couple of days on the lake to have a better chance at getting the weather right. Red Maholo Nymphs have been really good as are Albino Wino's and Copper Top's. For Shooting Heads try Olive Martini's and Bloody Marys. Any day you get out to Pyramid you could catch the fish of a lifetime.
2-4-14
January at Pyramid was about as good as could be expected. The water is cold at its normal wintertime lows of 42-43 degrees but there have been some really big fish hanging around and feeding all winter. The numbers of fish are down which can be expected this time of year but when or if you catch a fish it has the potential to be huge. There have been lots of fish caught between 10 and 20 pounds over the past month. The beaches with access to deeper water continue to be the hot spots. Places like Blockhouse, Sand hole and other areas on the South end of the lake have been pretty good. It looks like we are in for some weather over the next couple of weeks and that should help the fishing out as well. The best days have been when we get some wind and some chop on the water. There have been some really good early mornings and late evenings but it is really cold out there so dress warm.
Nymphing in 9-20 feet of water with Red, Wine or Black Maholo Nymphs has been working well. Stripping Wooly buggers and Beetles in deeper water with a fast sinking shooting head is also the way to go. Olive Martini's, Bloody Mary's, and Loco Beetles and Tadpoles are great choices.
 1-21-14
Fishing has really slowed down at the lake. This is pretty common for this time of year. The water is very cold at 41-43 degrees. There has not been much wind at the lake lately and the thermoclines are building up and sending fish into deeper warmer water. There are still some big fish being caught over the past week including a fish over 20 pounds and one in the 15 pound range. Both fish were caught from float tubes in 20-30 feet of water. Shore fishing has been pretty slow all over the lake except for first thing in the morning and after the sun gets off the water in the evening. The lake really needs some weather to churn up the water and mix some of the cold and warmer water again. Maholo nymphs and midges are still working for Nymphing and Bloody Marys, Olive Martini's and Loco Beetles and Tadpoles with fast sinking lines. The fishing should continue to be about how it is for the next couple of weeks unless we get a storm or two.
12-2-13
Wow! What a fall at Pyramid. This has been the best fall fishing out at the lake in recent history. The new strain of Lahontan Cutthroat Trout continue to grow and offer anglers the chance to catch a fish of a lifetime. Several fish over 20 pounds and a couple in the 25 pound class have been caught over the past month or so. Lots of fish in the 10-20 pound range have also been caught. There are several beaches that continue to produce fish but the fish are really spread out. Spots with access to deep water have been the best places so far. www.pyramidlakeflyfishing.com/fishing/beaches lays out the variety of spots to try at the lake and the ones that have access to deep water. All sorts of techniques have been working. Shooting head set-ups with Midnight Cowboys, Bloody Mary's and Olive Martinis have been working well. Dropper flies like white Wooly Buggers and Chartreuse Loco Beetles are also worth a try. Nymphing has also been catching fish. An estimated 24 pound fish was caught last week on a size 12 Black Maholo Nymph. Albino Wino Midges are also doing well.
There is a bunch of really cold weather headed our way and the water temperatures are bound to plummet. This could change the fishing conditions and drive fish into deeper water sometime soon. It should remain pretty good for a while however if you can handle the cold. Fish have been biting seemingly any time of day so as the cold weather sets in it might be a good idea to get a little later start.
10-8-13
Opening Day at Pyramid was as good as it has been for several years now. There were some really good reports of anglers catching 10-15 fish. The good fishing has continued for most of the first week. It is really important to find schools of bait near shore this time of year to have the best chances. Minnow patterns fished with a fast sinking shooting head that sinks 6-8 inches a second on beaches that offer chances to get your flies into 15-25 feet of water are your best areas to try. There are not too many spots around the lake that shore fishermen can do this but those types of beaches were awesome on the opener. The beaches page does a great job of explaining which areas offer access to deeper water around the lake. The fishing should only get better as the water cools and fish creep into the shallows over the next month. Midnight Cowboys, Olive Martini's, Bullet Head Streamers and just about any minnow imitation in size 2-6 is worth a try.
The best story of opening day goes to Lauren Dunn of Truckee who caught and released the new Junior Female World Record Lahontan Cutthroat Trout. This is a category for anglers under the age of 17. The fish was Lauren's first fish of the day and weighed slightly over 9 pounds. Congratulations to Lauren! Go to https://www.pyramidlakeflyfishing.com/2013/10/03/new-world-record-lahontan/   to see the story.
9-3-2013
Opens to Trout Fishing October 1st. This is going to be an interesting and hopefully another great year at Pyramid. We now have two sustainable strains of Lahontan Cutthroat Trout in the Lake. The Summit Lake strain which has been the main strain in the lake for the last 20 years or more and the Pilot Peak Strain which was introduced back into the lake in 2006-2007. Both strains of fish play an important role in the fishing at Pyramid Lake. We are still learning a lot about the Pilot Peak strain and some of what we think we know is based on only a few years of experience catching these fish. There is much more recent history with the Summit Lake strain.
In years past most of the Summit Lake Cutthroats are still in deeper water on opening day. It has a lot to do with water temperatures. The boaters usually do very well in October catching these fish in 20-40 feet of water or more. Trolling is a great way to fish this time of year. Shore fishermen usually try to fish near fast drop-offs where deeper water can be accessed. Looking for Tui Chubs and Perch Fry are also important to finding fish. As the fall wears on and water temperatures drop more and more fish can be caught from shore in more like 8-15 feet of water. The fish can be really spread out and moving around is important to finding fish. This should be very close to how the fishing goes for the Summit Lake strain of Lahontan Cutthroats again this fall.
It is going to be interesting and fun to experience another year with the new Pilot Peak strain which is believed to be as close to the original strain of Lahontan Cutthroat Trout that used to roam the lake 100 years ago. These fish do not act like the Summit Lake strain. They are more aggressive, tend to grow faster and may even live longer. They also seem to hang out in different water. Last spring after most of the Summit Lake fish were out in deep water and the hatchery was shut down a large school of Pilot Peak fish showed up in shallow water and there were a few weeks of excellent fishing in May and June because of it. These fish seem to spend a lot more time chasing Tui Chubs and smaller Trout and will move in and out with the schools of bait. There are usually more Tui Chubs near shore in the fall so there may be some really big fish close enough for shore fishermen to catch as early as Opening day. We still have a lot to learn about these fish and what the future holds for the largest Cutthroats on the Planet.
6-1
What a great day on the lake. Started out with a couple begginer clients in the morning and we caught some nice fish. We went through a slow spell around lunch and then it was on again. 10 Pilot Peak fish to hand up to 5 pounds in about 2 hours. Fish were deep. We were fishing the new deep line breakaway indicator rig in 12 feet of water. Developed by Rob Anderson. Awesome set up. Anyway then we get a last fish of the day story.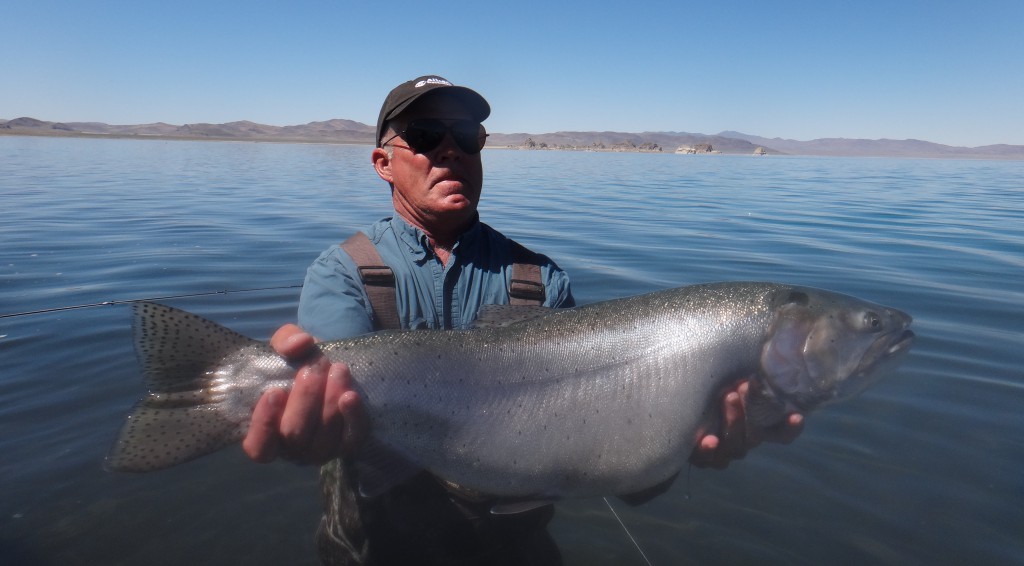 a couple of fish over 8 pounds today with this monster fish. Maybe 12-14 pounds. Lots of Pilot Peak fish being caught right now.
5-22
Pyramid can be tricky for shore anglers this time of year. The fish have moved on from the spawn and warmer water moves most of them back into 30-50 feet of water. However cooler weather has stalled the warming of the water and the fishing has picked up. The fish seem to have moved to the North end of the lake and places like Monument and Warrior have been best. First light has been the time to be there for sure. It looks like the wind is going to blow for a few days and this should help the fishing. There is no one fishing Pyramid from shore right now. You can have just about anywhere to yourself. The boaters are really doing well. Korey Farnsworth has been hammering fish from a boat the last few weeks.
5-8
Water temperatures have jumped into the high 50's over the past week. The Pyramid Lake fisheries reading at Sutcliff on May 5th was 56 degrees. The water is still in great shape for May and there are still some really nice fish being caught. There was a 14 pound Pilot Peak fish caught at Warrior Point on May 3rd. There was an 11 Pound Pilot Peak fish caught around Popcorn on the same day and a 10 pound fish caught at Dago Bay as well. Although numbers are a little on the low side there are still some big fish cruising the shallows. The next couple of weeks should be pretty good at Pyramid. There have been a ton of Chronomids or Midges hatching as well as a few Callabaetis as well. Nymphing rigs continue to produce with red or black Maholo's. This is also a great time of year to fish Olive colored flies right on the bottom to imitate Dragon Fly nymphs and sand beetles.
4-30
The full moon is behind us now and the water temperatures are still in the low 50's. The month of May could really be a good at Pyramid. We have had some really good reports even through the full moon cycle. It looks like we are going to have some really warm days in the coming week and the water could warm up fast. It is perfect right now though and if you are thinking of going to Pyramid now is the time. Weather will start to play an even bigger part as the water gets warmer. Wind and chop on the water will become more and more important. Early mornings and late evenings when the sun is off the water will also be a factor. There are more and more midges hatching at the lake now and there are even some Callabaetis showing up. Fishing with nymphs and midges under an indicator or simply stripping them in without an indicator with a long leader and a floating line is hard to beat right now. Black Wooly Worms like the Midnight Cowboy and the bloody Mary have been really good fished with a shooting head as well. Fish the wind and move often. Fish really tend to school up this time of year.
4-23
The lake has been pretty tough for the last week or so. This is very normal due to the moon phase. Pyramid has always been a little tough around the full moon. The water temperatures are creeping up into the low to mid 50's and the next few weeks should be really good overall. As we get passed the full moon the fishing should keep getting better until the water gets to about 60 degrees. The spawning channel is full of fish and there are some huge Summit Lake and Pilot Peak fish in there. This should be a really good year for the hatchery. Fish are spread out all over the lake and it is really important to follow the wind and conditions out there right now. As we get more and more nice days, early morning and late evening should also be good times to fish. Maholo nymphs and Midges are still catching lots of fish either under an indicator or fished on a long leader with a floating line and retrieved really slow. Midnight Cowboy's and Bloody Mary's are great flies to use with a shooting head.
Keines fly shop has the only remaining Maholo nymphs in stock for this season. They are getting low. If you need to restock give them a call soon. As far as I know evryone esle is out.
4-16
Now is the time to go to Pyramid if you have been waiting for the magical report. We have had a North wind for most of the last 9 days and it has kept the lake from getting warmer for sure.  April has looked much more like winter than March. This time of year is the time to be there but you can't assume everyday will be great. Weather plays a big role. There are plenty of fish close to shore so get out there and fish. Nymphing with Red Maholo Nymphs has still been awesome with a floating line either with or without an indicator. Loco Popcorn Beetles with a Midnight Cowboy is a great way to go for fishing on the bottom. Conditions look great for fishing over the next month.
4-10
The fishing over the past week has been up and down. It is just about what we excpected for this spring. We had a couple of brutal days of wind and snow on Sunday and Monday. Normally the wind is a good thing but it blew so hard it created some really muddy areas and it was hard to get into the water. A few anglers who stuck it out on monday did pretty well in the afternoon. The water dipped back into the mid 40's on Monday but it is climbing fast again. Shallow areas like the South Nets is around 50-54 degrees depending on who's thermometer you look at. The hatchery is full and the first spawn of the season happened yesterday. The next few weeks should have some really good days and some slower days mixed in.
4-2
With the Full Moon behind us now the fishing has already started picking up. The water temperatures are slowing climbing into the upper 40's in the last couple of days. There are way more fish in shallow water now and good reports have come from all over the lake. Schools of fish have been seen cruising the shelf at places like Windless Bay, Pelican and the Nets. The water at the hatchery is scheduled to be turned on any day now. Most of the females being caught still look a little "green" or not quite ready to spawn yet. As the water warms up into the 50's over the next couple of weeks they should be ready.
Weather is still going to play a part in the day to day action at the lake. It is important to fish the mornings and evenings on those sunny Blue-bird days. For shooting head set-ups, Olive Martini's and Midnight Cowboys have been working well on the back and Lime Green Tadpoles have been hard to beat as a dropper. It is a great idea to fish a bright fly on the front of your rig so you can see the fly as it gets close to you on your retrieve. Don't get in a hurry to re-cast. Fish have been following all the way to the ladder. For nymphs and midges, Red Maholo Nymphs are still hard to beat as either a top or bottom fly. The males are really keying in on red this season. Maholo Midges are a good way to go for the bottom fly. Good Maholo Midges to try are Copper Tops, J.W.'s and for Maholo Stretch Midges try the P.M.S. or the Albino Wino.
3-28
The afternoons have been the only real bite again. We caught almost all our fish between 2:00 and 4:30 today. The fish seemed to move in and then just dissapear after 4:30 ish. The Moon is reaking havoc. We did the dawn patrol again today and it was beautiful at Dago Bay for sunrise but the fish were not there. Reports were basically the same for other anglers as well.
3-26-3-27
Full Moon syndrome at the lake the last couple of days. The morning bite has been tough overall for sure. The afternoons have been way better. The fish seem to be eating Wooly's and Beetles better the last few days than midges and nymphs. We have some stormy weather coming in tomorrow and hopefully that will get the fish going again. The water is still off at the hatchery and the water is still on the cold side. I got to spend some time with U.S. fish and Wildlife at Marble Bluff dam. It looks like we are getting another 140,000 Pilot Peak fish this year. The future looks bright for the Mid.
March 20th
The approach of spring has the Cutthroats thinking spawn at Pyramid. The weather however is a little behind. The water is still pretty cold for the middle of March. The Pelicans have just started to appear on their yearly trip to the lake as well. Fish are being caught all over the lake and are very spread out right now. As of 3-18 the water at the hatchery was not on yet.  The weather usually plays the biggest role in the fishing this time of year. Cloudy, windy days are the best and if you can get some chop on the surface it is a plus. Early mornings and late evenings when the sun is off the water can also be a factor. There are some really nice Red male fish starting to show up in the shallows. Pick a spot and give it an hour and see what the wind is doing. Fishing the beaches with a little chop or some rollers is best. Red Maholo nymphs fished under an indicator has been the most consistent bite so far. Mark For and Strike, Scheels in Reno have them and Keine's in Sacramento also. Casey Ryan of Dallas caught an 11# 14 ounce Male on Sunday using this fly.
March 12th
The fishing at Pyramid has been just about as I expected it for Early March. We have has some really cold weather in the Reno area and that has kept the lake water temps. down in the low to mid 40's. There have been some fish around for sure. It is very hard to predict however. The best days have been when there is some chop on the water or at least some cloud cover. Today the bite was slow until the wind picked up around 11:00 am and then it seemed to turn on for a while.
Warmer weather over the next week is going to really increase the water temperatures and it should bring more fish into the shallows. There have been some big fish caught over the past week. Jay Clark of Portola caught a 16 Pound Summit Cutthroat on Friday while fishing Midges and there were several more fish over 10 pounds caught as well. Maholo Midges and Nymphs in Red and Black have been working well. There are several Fly Shops like Keine's in Sacramento and Mark Fore and Strike in Reno that have these flies in stock.
March 1st
I Spent the entire morning on the South end of the lake. It was a sunny blue bird day but the wind was blowing out of the North and making the chop on the water perfect. 12 fish to hand by 11:00 am and missed a few more. One female Pilot Peak fish that was around 7 pounds. The bite was on for sure. It seemed as though I got a grab every 10 minutes or so. Most fish were caught retrieving a Midnight Cowboy and a few came on the Loco Popcorn Beetle. Late in the morning I switched to the Indicator rig as the wind came up and started getting grabs right away. Good day to be at the lake for sure. The Albino Wino was the hot fly but then again it was the fly I had on the bottom the whole time. I can't wait to go back out in two days. It seems as though I found a bunch of fish and I hope they stay put until I get back.
As far as the overall report. The water is still in the low 40's. There are fish around and most of the beaches are reporting 2-5 fish days with some scattered better days in between. The water has come down about 18 inches from last year and just about all of the popular spots have great access to the drop-offs and ledges. It should be a much better year than last year. some of the beaches still have weeds and muck issues on the bottom for sure but there are also a bunch of really clean spots where you can drag your flies in with no issue. The water is not on at the Nets yet and the fish are spread out all over the lake.
February 4th 2013
A long cold spell in the Reno area has the lake water temperatures down to around 41 degrees. This is usually about the coldest the lake gets in the winter. It is supposed to be a little warmer over the next week or so with sunny skies. The fishing at Pyramid is pretty average for this time of year. Cold water in December-January tends to move most of the fish into deeper water in search of a little warmer conditions. There are however a few fish being caught from shore anglers. This year continues to produce some large fish. There was an 18 pounder caught last week and Reno local Adam Heuer caught and released an 11 pound fish on Saturday.  The fish are really spread out and the reports are coming from all over the lake. It is pretty much a given that you are not going to catch more than a few fish a day right now but the chance to catch a fish of a lifetime keeps anglers coming.  February is a great month to catch big fish at Pyramid. There are less little fish in shallow and the larger fish make a pass through shallow water from time to time. There are fewer fishermen and more chances when the fish come by.  A bunch of different flies are also catching fish. Bloody Mary's, Midnight Cowboys, Olive Martini's are always good and White Wooly Worms and Popcorn Beetles are great options for droppers.
Note: Use 12-15 pound tippet on your shooting head set-ups. If you do get the chance to hook into one of these monsters don't take a chance with light tippet. Go to pyramidlakeflyfishing.com for more info